Product Description
Defensive Fabric Sanitizer is a concentrated, ready-to-use liquid fabric sanitizer. Used during final rinse cycle, Fabric Sanitizer leaves behind a finish that is both self-sanitizing and bacteriostatic. Under conditions of contamination, Fabric Sanitizer continually eliminates 99.9% of infectious bacteria. Unlike bleach – which stops working after textiles are removed from the wash, Fabric Sanitizer remains active on the textile surface, continuing to aid in the prevention of cross contamination from both Gram Negative bacteria (i.e. Klebsiella pneumonia) and Gram Positive bacteria (i.e. Staph – a major cause of hospital acquired (nosocomial) and Community Acquired infections), providing protection throughout the use cycle of uniforms, linens and other textiles.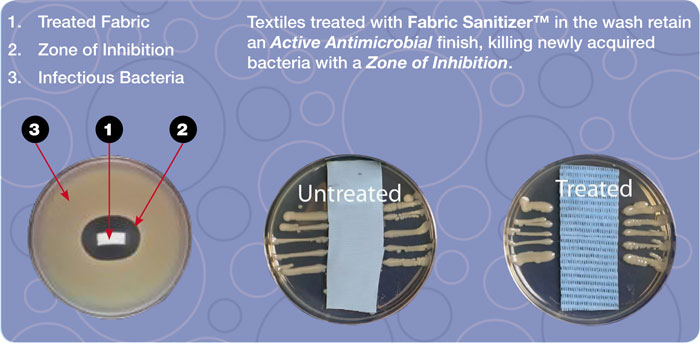 USES
Add Directly to Wash
Scrubs and Gowns
Bedding Materials
Towels
Room Dividers
Drapes and Curtains
Uniforms
Athletic Wear
Benefits
Reduces bacterial count by minimum 99.9%
Kills odor-causing bacteria
Effective against Staph and Strep
Continues working throughout the textile use-cycle
Won't irritate skin
Industries
Health Care Facilities
Nursing Homes
Institutional Facilities
Child Care Facilities
Educational Facilities
Athletic Teams
Health Clubs
Lodging Facilities
Military Bases
Uniform Rental
Correctional Facilities
Police Stations
U.S. EPA Reg #: 7048-8
Canadian P.C.P. #: 23612
Fabric Sanitizer™ is a naturally plant derived didecyldimethyl ammonium chloride manufactured from 91% naturally biorenewable plant derived feedstock, REACH Pre-registered, BPD Notified and EcoLogo Certified for use in Canada.